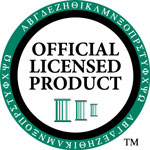 Alpha Gamma Delta is an international women's fraternity that promotes academic excellence, philanthropic giving, ongoing leadership and personal development and above all, a spirit of loving sisterhood. Guided by our Purpose, Alpha Gamma Deltas strive to attain a higher standard, thereby improving their lives, the lives of those around them and the communities in which they live. Together, we continually work to inspire the woman and impact the world.
Featuring Alpha Gamma Delta Sorority Merchandise including Alpha Gamma Delta T-Shirts, Alpha Gamma Delta Sweatshirts, AGD Polos, Bags, Alpha Gamma Delta Greek Lettered Apparel and other Alpha Gamma Delta gifts.
Need a custom order for your AGD chapter? Contact your Alpha Gamma Delta Account Manager (Brayden Jessen 888.501.5510 ext 100 brayden@zomedesign.com) to get started with your greek custom apparel order right away
This store is no longer active. Please call store sales representative, Brayden Jessen, at 509.279.2034 ext. 1002 for more information.
Thank you.